Main Service

HRM Service
Best HR offers an integrated output, including all areas of the traditional HR consultation, which are the human resources management, organization structure, performance management, organization culture and development, HR hot issues and so on.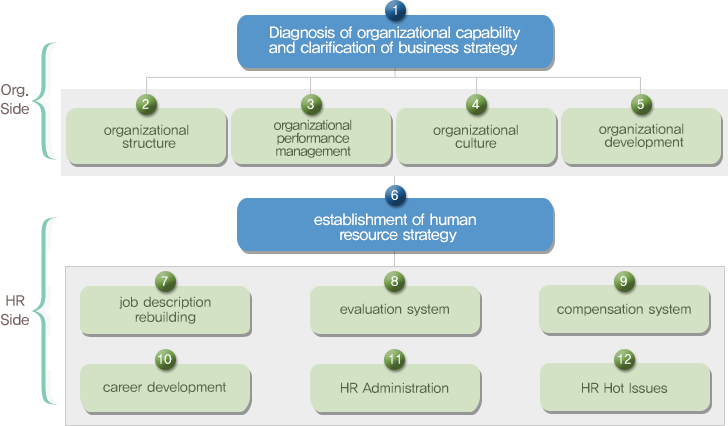 ① vision, mission, strategy complement and building,organizational capability diagnosis, etc.
② organizational structure redesign, estimating the appropriate personnel, establishing method for organizational efficiency, etc.
③ organizational performance management system diagnosis and building, performance management support, etc.
④ organizational culture diagnosis and system building, program design for organizational culture, etc.
⑤ GWP(Great Work Place), Teamwork diagnosis and development, team building, leadership diagnosis and development, etc.
⑥ EOS (Employee Opinion Survey), HR system diagnosis, human resource strategy building, etc.
⑦ establishment of task system, job analysis, job descriptions building, etc.
⑧ salary surveys, basic and variable salary system design, etc.
⑨ performance and competency evaluation system design, etc.
⑩ career development system establishment
⑪ recruitment, promotion, moving / open recruitment, retirement plan design, etc.
⑫ support team leader in performance management, low performer management, job aptitude test, HR Scorecard building, etc.
HRD Service
The education service sector offers HRD consultancy service on planning, such as for establishing competency modeling, education systems, curriculum development and so on. It also offers learning services on operations like curriculum coordinating, consignment operation, outsourcing and so on.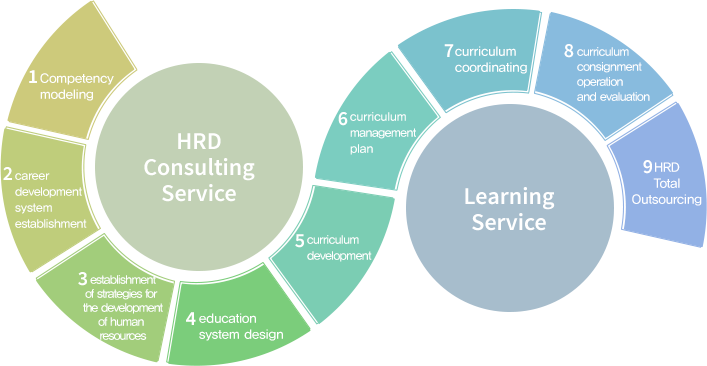 Detailed Service
① Drawing items of competency, developing behavioral index, etc.
② Career path design, career development process design, etc.
③ Establishing medium- and long-term plans to cultivate human resources
④ Establishing training system - CBC, DACUM
⑤ ADDIE Model-based curriculum development, textbook and lesson plan development, etc.
⑥ Establishing curriculum for buying, customizing, and building
⑦ Casting and customization of Instructor/ external programs/ place of education
⑧ Unit process operation outsourcing, evaluation of educational efficiency
⑨ Establishing an annual education plan-education - performance evaluation, whole outsourcing